Use WireframeSketcher tool to create great looking website wireframes and mockups. Link screens together into a prototype to show the flow of your app. Use masters and projects to effectively manage prototypes with large number of screens. Export prototypes to PDF or HTML or demo them directly in full-screen mode. Click from screen to screen to show how the website is supposed to work. WireframeSketcher is available on Windows, Mac and Linux.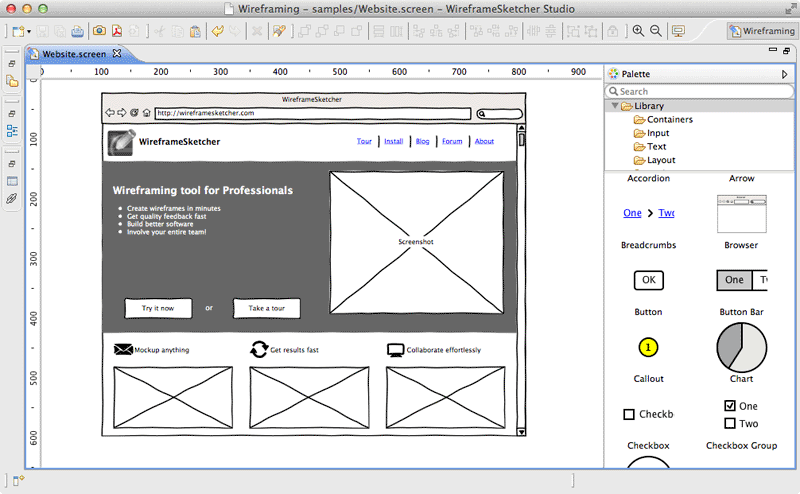 Collaborate effortlessly
Use version control to work with your team. Present your website in full-screen viewer. Share click-through PDFs with your clients. Export HTML and upload prototypes online using Dropbox or similar.
Mockup anything
Mockup and wireframe any website with ease using built-in widgets and a huge set of great looking icons. Create your own components from existing ones or use SVG to draw your custom UI.
Get results fast
Streamlined and professional interface lets you mockup and wireframe fast and with great effect. Turn on sketchy theme for your website wireframes so that you and your clients can focus on what's important.
What our users say
"WireframeSketcher is an excellent mockup and wireframe tool, and I definitely recommend giving it a try, especially if you live inside the Eclipse IDE."
"All in all, I've found WireframeSketcher to be a better fit for my workflow and needs than other wireframe tools."
"We use WireframeSketcher a lot in the initial phases of a project, because it's a beautiful way to turn sketches into neat diagrams, and sit with a customer to change them live."