Hi everyone!
Today's release brings a few bugfixes, one being a potentially serious issue with component overrides, and better bulleted lists. Read on for more details.
Fixed component overrides
This release fixes a serious issue with component overrides. In some very particular cases overrides were not computed properly and could cause strange effects and lost work. We treat bugs that may lose work very seriously so please update to make sure that you are not affected by this issue.
Better bulleted lists
This release also brings better bulleted lists. Bullets use circle and square styles for 2nd and 3rd nesting levels. This makes lists much more clear:

Bullets are now better centered vertically at large font sizes, and there is also a fix for an issue that caused extra lines to appear in some cases on Linux.
Other changes
Added "Edit Screen" action in presentation mode
Updated

JRE

in Windows distribution
Updated platform to Eclipse 3.7.2
Updating
To update to the latest version of WireframeSketcher go to the Help menu and select Check for Updates.
The version number of this release is 3.4.1.
Enjoy!
Hi everyone!
Today's release brings a new and improved Palette, adds a new iPad stencil to Mockups Gallery, and packs various changes that will improve your wireframing experience. Read on for more details.
New Palette
Finding your way through available assets and widgets is a big part of wireframing process. Palette view is the central piece of the UI that helps you do that. I've been collecting your feedback on Palette for more than a year and finally decided to sit down and bring its UI up to speed. I'm really excited with the result.
So here what the new UI looks like: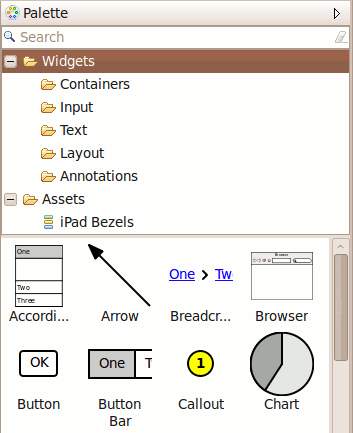 As you can see, Widgets and Assets drawers are gone and were replaced by a new filter tree that lets you quickly switch contexts. The new Palette also uses regular scrollbars instead of those annoying and hard to hit up and down arrows. Another change are better thumbnails. Thumbnails now let you see the whole widget when possible (notice the Browser). This last change makes working with custom assets a much more pleasing experience.
Another big change is support for cross-project asset sharing. This is accomplished via project references that you can setup by right-clicking a project in Project Explorer and choosing Properties > Project References. Use this mechanism to avoid asset duplication by placing assets in one designated project.
Then there are other small improvements like: keyboard navigation support; better handling of long file names (the palette detects camel case and underscored words and splits them up); better search matching.
I believe the new Palette will vastly improve you wireframing experience. I'd love to hear what you think about it so don't hesitate to send me your comments.
New iPad stencil
There is a new iPad stencil in Mockups Gallery for creating beautiful sketchy wireframes with good layout precision. It includes iPad popovers, buttons, bars, icons, alerts and more. There is also a Safari control for those who want to wireframe their website for iPad.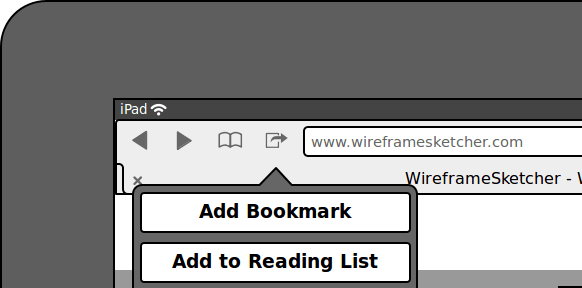 Other changes
Improved reorder actions to work with multiple selection
Fixed drag & drop in Outline view to preserve relative ordering
Removed navigation footer in exported

HTML

documents
Fixed missing master links in Screenflow editor
Fixed Quick Add to place widgets inside visible canvas when zoomed
Switched to regular file chooser instead of directory chooser in export dialogs on Windows
Fixed an error when exporting to non-existing or non-writable directory
Fixed multi-line text alignment when using \n in Button, Circle, Rectangle and Table widgets
Fixed

PDF

export to use images when Arabic or Hebrew text is used
Ubuntu Software Centre
WireframeSketcher can now be installed from Ubuntu Software Centre in Ubuntu Oneiric Ocelot and later. If you are an Ubuntu user then consider this option. The package integrates perfectly with your desktop and you get automatic updates through regular system updates. The only small downside is that updates tend to lag a little behind due to a manual review process.
Updating
To update to the latest version of WireframeSketcher go to the Help menu and select Check for Updates.
The version number of this release is 3.4.0.
Enjoy!