Hi everyone!
Happy New Year to all! Today's release brings support for external links, vertical orientation for tabs and improved HTML viewer. Other changes include minor improvements and bug fixes. Read on for more details.
External links
When wireframing websites there is a natural need to be able to link to external sites like YouTube, Google Docs and similar. Today's version adds a way to specify those external links. In Links View there is now a small drop-down button that opens a menu:

To add an external link just click External Link… option. You can specify links like http, ftp or mailto.
External links are marked with a slightly different overlay icon. While at it, we've also improved link overlay icons and made them crisper. If the linked screen does not exist then a broken link icon is displayed to make it easier to find linking errors.
The link drop-down menu also adds quick linking options for screens that are located in the same folder with the edited screen.
Vertical Tabs
Vertical tabs was a highly requested item on our list. Tabbed Pane widget now has two more orientation options, left and right.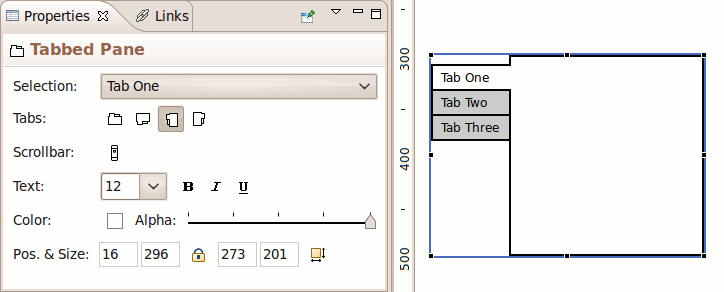 Horizontal tabs also feature a new square style which is more minimalistic and works better for wireframes: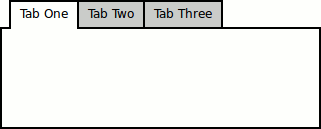 Improved
HTML

viewer

HTML viewer received a face lift in this version. The navigation bar is now back with better styling and touch screen friendly buttons. It's fixed at the bottom of the screen and provides explicit buttons to navigate back and forth and to toggle links highlighting.

The arrow-down button lets you hide the navigation bar to get it out of your way when needed.
HTML viewer now also works better when used with Dropbox public folders.
Supporting Mac retina display
There were several reports of various issues with fonts on Macs with retina display. To fix them we had to disable temporarily our support for retina display and make WireframeSketcher run in compatibility mode with scaled UI. Please make sure to download and re-install the latest version from our website.
The good news is that proper support for retina display is coming. Bugs are being fixed in Eclipse platform and we'll be able to release a proper retina-enabled version at the end of February. So please be patient with us.
Other changes
Added show/hide actions for rulers and grid in View menu
Fixed an issue with customizing Wireframing perspective in Eclipse Juno (4.2)
Fixed the issue with holding arrow keys while moving or resizing
Fixed the sizing of Accordion widget with sub-items and scrollbar
Removed text style and align toolbar
Fixed the issue with Presentation viewer after clicking on a broken link
Dropped support for Eclipse 3.5
Updating
To update to the latest version of WireframeSketcher use Help > Check for Updates, or just download it from our website.
The version number of this release is 3.8.2.
Enjoy!