Hi everyone!
Today's release adds new images export options, fixes a regression in PDF export and brings several small improvements. Read on for more details.
New image export options
Image export dialog now gives the option for exporting the entire screen or current selection only. So it's possible to select a few widgets and export only those to image. Be aware that this choice only becomes available when something was selected in the editor.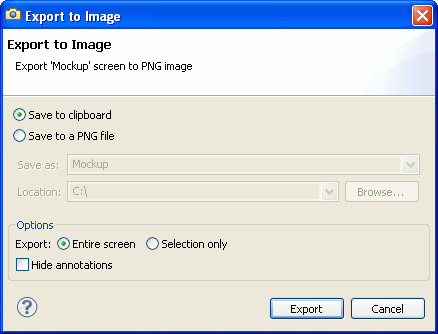 There is now also a new entry in the menu under File > Export Image to Clipboard with Ctrl+Shift+C shortcut for exporting edited screen as image directly to clipboard.
Cleaner screen flows
Following your feedback we are experimenting with options for cleaner screen flows. One common grudge is that screen flows look messy when the story contains a large number of interlinked screens. This version reduces the visibility of arrows that correspond to back links (links that go backwards in the screen flow) to make the main flow stand out more.

If you have other ideas for improving screen flows then please let us know.
Twitter Bootstrap project
Wireframe Project wizard now includes Twitter Bootstrap project type. This type adds both Bootstrap stencil and Font Awesome icons to the created project. At the same time Font Awesome icons were updated to version 3.1.1 which adds 50 new icons.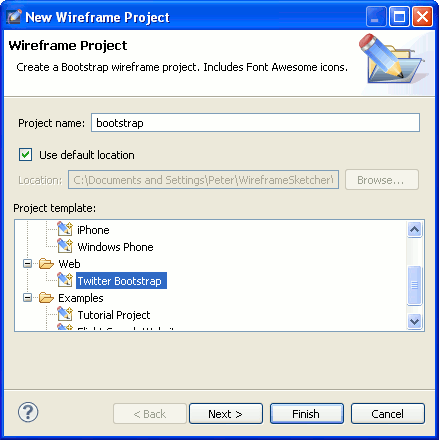 By the way, we think Font Awesome icons are so good that we suggest that you use them whenever you need extra icons.
Google Images search
One last improvement concerns Google Images search. WireframeSketcher allows images to be dragged & dropped directly from the browser into the editor. Images are automatically copied to project assets and added to the screen. This is a great way to enrich wireframes with real world images.
One great source of images is Google Images search. Unfortunately Google recently made a change that breaks the drag & drop. This version adds a workaround so that Google Images can work again. Search for an image, click on the image you like and then drag & drop the View original image button.
PDF

text alignment fix

Version 3.9.0 released back in March introduced an embarrassing regression that went unnoticed until now. For Windows users it causes all text in PDF to be vertically misaligned. This version fixes this issue and we advise you to update as soon as possible.
Updating
To update to the latest version of WireframeSketcher use Help > Check for Updates, or just download it from our website.
The version number of this release is 3.9.2.
Enjoy!