Hello everyone!
Today's release brings various improvements to the recently added Notes feature. Notes can now be displayed in the Presentation mode in a side view, and also get an improved PDF export. Read on for more details.
Notes in Presentation mode
Our first release of the Notes feature displayed notes using tooltips. This was a temporary solution and today's release brings a rich display of notes in a side view:

This way you can easily present your wireframes and display attached notes at the same time.
Widgets that have an attached note are displayed with a numbered callout that you can click on to highlight the corresponding note in the side view.
You can hide the notes side view by toggling on the Hide Annotations option from the context menu or by simply pressing A.
Notes in
PDF
Notes exported to PDF now better support multiple languages. Chinese, Japanese and Korean languages are now exported correctly with appropriate PDF font, but also right-to-left languages like Hebrew and Arabic.

The same as in Presentation mode, you can use the Hide Annotations to enable or disable the export of notes to PDF.
Improved editing for notes
Notes view has also received some improvements. The undo & redo now works as expected, it's now easier to edit long text, and there is an auto-completion helper popup that can be opened using Ctrl+Space.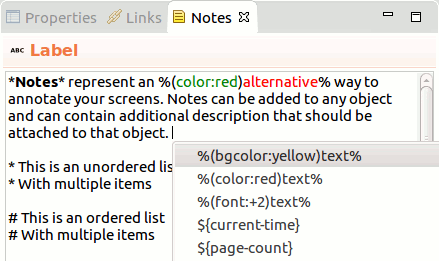 Other changes
Fixed an issue with

PDF

export in batch mode
Fixed an issue with rotated labels with embedded icons causing editor errors
Fixed a text line height issue in

PDF

export on Mac OS X
Fixed a

PDF

export error occurring with notes in some languages
Fixed an issue with property overrides in some deeply nested components
Updated Font Awesome stencil to version 4.7.0
Updating
To update to the latest version of WireframeSketcher use Help > Check for Updates, or just download it from our website. Mac OS X users that experience update issues should re-install the latest version manually from our website.
The version number of this release is 4.7.2
Enjoy!