Hi everyone!
Today's release brings improved arrows. Other changes include better screen selection dialogs, and a several other improvements and bug fixes. In other news, WireframeSketcher joined Eclipse Foundation. Read on for more details.
Improved arrows
A wireframing tool should make it easy to express and experiment with ideas. And arrows are arguably one of the most useful idea expression tools. Better arrows were one of the most long-standing tasks on our to-do list. You requested them on our forums here, here and here and in numerous emails.
Although arrows are such a popular tool, they are not the easiest thing in the world to support in a graphical tool.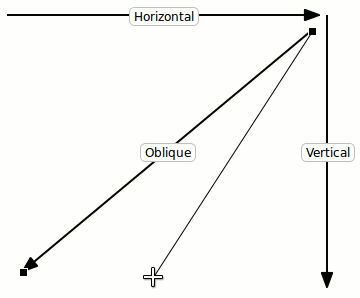 To add an external link just click External Link… option. You can specify links like http, ftp or mailto.
External links are marked with a slightly different overlay icon. While at it, we've also improved link overlay icons and made them crisper. If the linked screen does not exist then a broken link icon is displayed to make it easier to find linking errors.
The link drop-down menu also adds quick linking options for screens that are located in the same folder with the edited screen.
Better screen selection dialogs
Thanks to some good suggestions from Brek we've improved screen selection dialogs. Dialogs now hide screens from assets folder as they are not relevant when selecting screens for a link or for a storyboard.
When selecting screens for a storyboard, the dialog also won't include already added screens. This makes it easy to identify and add new screens.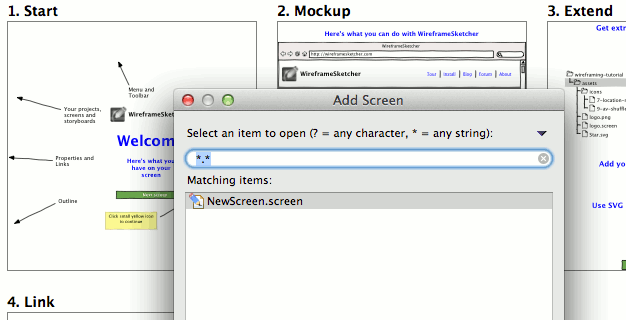 If you still wish to add a screen that is hidden by the selection dialog then you can always use drag & drop to do so.
Eclipse Foundation membership
We are proud to announce that WireframeSketcher is now a member of Eclipse Foundation. Eclipse is probably best known as a Java IDE, but it is more: it is an IDE framework, a tools framework, an open source project, a community, an eco-system, and a foundation.
WireframeSketcher is based on Eclipse framework, and we are using Eclipse tools extensively for development. We always supported Eclipse by doing lots of testing and providing bug reports. We are now also proud to support them financially.
A nice side effect of this is that WireframeSketcher can now be more easily installed in Eclipse IDEs that come with Marketplace Client. Just open Help > Eclipse Marketplace…, search for WireframeSketcher and click Install.
Other changes
Fixed the issue with arrow heads being sometimes obscured
Improved Note and Text Area widgets to use more padding. Thanks michael for suggestion.
Enabled

HTML

export for single screen
Fixed the issue with some actions not being available in renamed perspective
Fixed the issue with deleted screens in storyboard export
Updating
To update to the latest version of WireframeSketcher use Help > Check for Updates, or just download it from our website.
The version number of this release is 3.8.3.
Enjoy!