Hello everyone!
Today's release, the same as the last one, focuses on usability and also brings several improvements bug fixes. Read on for more details.
Hex values in color picker
The updated color picker now lets you more easily to copy, paste and edit hex color values. Copying & pasting hex colors was possible before, but the feature was hidden. Now there is an explicit text field that lets you do it: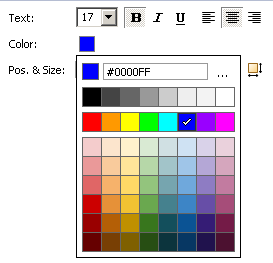 Optimized exported
PDF

size

As was reported here, exported PDFs would become very large when using a bitmap image across multiple pages. This version fixes this issue and image instances are only added once and then references throughout the PDF document.
Other changes
Fixed horizontal scroll with Shift+MouseWheel in presentation viewer
Improved zooming with Ctrl+MouseWheel in screen editor
Improved widget selection when entering groups/components
Removed delete action from the toolbar to optimize the UI space
Updating
To update to the latest version of WireframeSketcher use Help > Check for Updates, or just download it from our website.
The version number of this release is 4.2.5.
Enjoy!