Hello everyone!
Today's release brings an update to our online sharing service and adds the possibility to update or delete shared links. Other changes include new material design icons stencil, and a few small improvements and bug fixes. Read on for more details.
Online sharing improvements
Our online sharing service gains more and more popularity which on its turn allows us to gather more and more feedback. For some time now it became apparent that we need to allow to update and delete shared links. Generally this kind of functionality requires the addition of online accounts which makes the sharing process much less streamlined and so we were hesitant to add it.
After giving it a good, long thought we came up with an approach that is both secure and simple and at the same time doesn't require online accounts.
Here's what the process looks like. When you share the same story for the second time you'll see a new option that lets you choose to update previously uploaded link:
Clicking the History link will take you to the list with all shared links for this story and will let you delete them or choose a different link to update: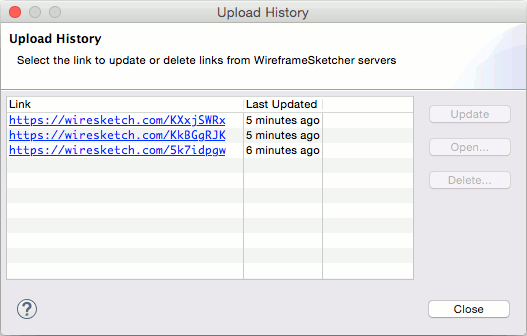 No one but you can update or delete shared links. When you share a story online WireframeSketcher will store some information in your workspace that will be used later to verify that you are the owner of the link.
Shared links are now much shorter too so they are more friendly to share via email or other means.
Material Design icons
We have added a new Material Design icons stencil with icons from Material Design project by Google. There are around 750 icons that include common icons used across different apps, such as icons used for media playback, communication, content editing, connectivity, and so on..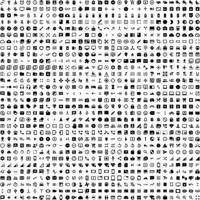 OS X Yosemite
We have improved the installation experience of WireframeSketcher on OS X Yosemite. WireframeSketcher now comes bundled with a private Java runtime so you can just install it and run like any other app. No more Java installation prompts.
Silent install on Windows
We have also improved support for automated deployment of WireframeSketcher on Windows machines. You can now run WireframeSketcher installer in silent mode and control the installation via command line parameters. Read the silent installation on Windows article in our support section for more details.
Version control plugins
It's always a good practice to use version control to store and manage your wireframe designs. We've updated installation instructions for Git and Subversion plugins and added a new section for Team Foundation Server plugin. If you use a different version control system then let us know what it is and we'll add instructions for that.
When working with version control plugins you'll need to frequently switch between different perspectives (UI views). To make this process easier WireframeSketcher will now show the perspective switcher in the toolbar when you install version control plugins.
Updating
To update to the latest version of WireframeSketcher use Help > Check for Updates, or just download it from our website.
The version number of this release is 4.4.2.
Enjoy!