Hello everyone!
Today's release brings an update to the Android stencil. Other changes include small improvements and bug fixes. Read on for more details.
Android 5.0 Lollipop stencil
This version replaces the Android 4 KitKat stencil with a new one for Android 5.0 Lollipop. This new stencil is based on Material Design guidelines from Google and can be used for wireframing Android phone, tablet and wear apps.
All new Android projects will be based on this new stencil. New Android projects will also automatically include Material Design Icons pack which provides an extensive set of modern Android icons.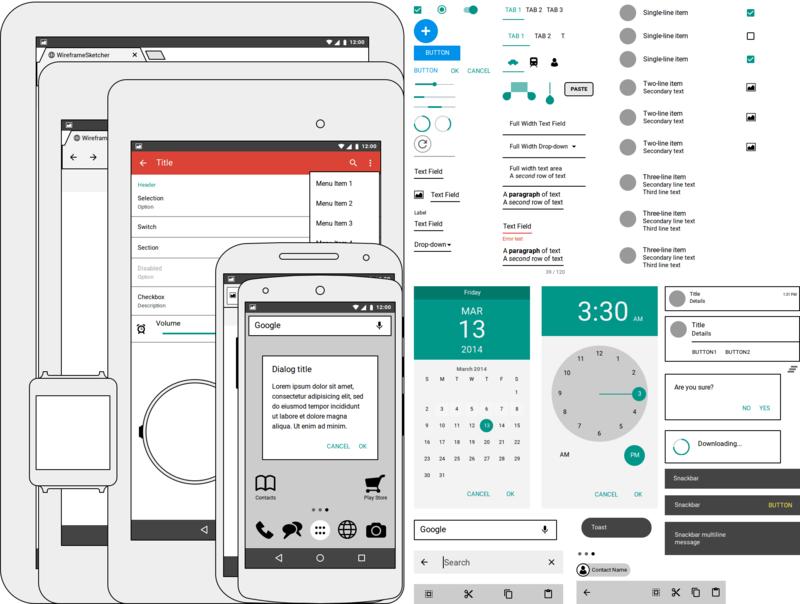 The stencil is organized in several categories to simplify the access to different components. Content, Controls, Lists, Navigation, Prompts, Settings and Typography categories group common controls and views. Templates category bundles some pre-built screens that you can use to jump-start your mockups. Devices category contains device bezels for Nexus 5, 6, 7, 9 and 10 devices, and also for square and round Android Wear watches. Additionally the stencil includes Chrome components for wireframing websites on Android devices.
Note that you can still find the old Android KitKat Stencil on our website.
Other changes
Added font properties to Browser widget
Fixed the issue with font not being inherited from template in Wireframe Project wizard
Updating
To update to the latest version of WireframeSketcher use Help > Check for Updates, or just download it from our website.
The version number of this release is 4.4.4.
Enjoy!