Hi everyone!
Summer vacation is over and we are back with a new update! Today's release brings a new wireframe sharing service that lets you publish your work online directly from within the app. Read on for more details.
Wireframe sharing service
What's the best way to share your wireframes with your team of clients? This is the question that everyone has to answer at one point. WireframeSketcher already offers many options like direct presentation, sending a PDF document via email, or uploading HTML to your own servers. After several months of planning and development we are happy to introduce a new option – a wireframe sharing service that lets you easily share your wireframes online!
The new service lets you share wireframes easily directly from within the app. No setup and no account creation is required. To share a storyboard use the new Upload and share online option in HTML Export dialog: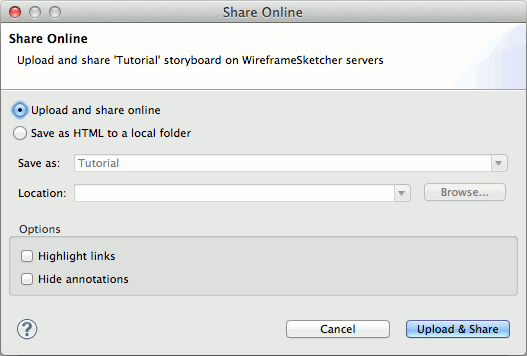 Once your wireframes are uploaded to our servers you get a standard link that you can easily share with your team or clients. Wireframes are loaded into an online viewer and clients can navigate around and click through links to test out the functionality: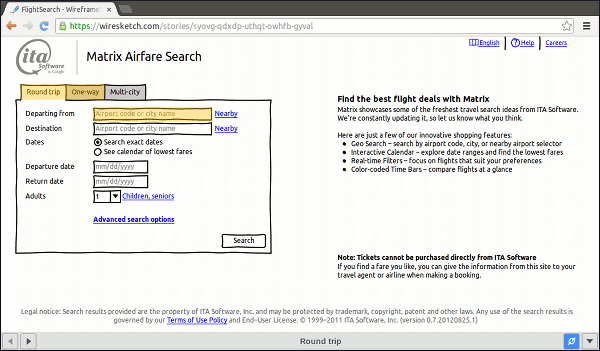 It's just this simple!
Pricing
Maintaining online servers and storage has some costs so we had to make sure that our service has a long-term viability and can pay for itself. But we also wanted to avoid the complexity of additional charges generally required by subscription-based services.
So we've decided to offer the sharing service for free, but to tie it to your active maintenance contract. This means that you can use this service for free as long as you have an active WireframeSketcher maintenance. Once your maintenance expires you'll need to renew your maintenance to continue using this service. See our buy page for more details on maintenance contract.
Security
While developing this service we've paid special attention to security. We understand that some of your information may be sensitive so we tried to solve as many security concerns as possible. The link you get after upload is unique and hard to guess. The link can only be accessed using secure socket layer (SSL) technology. Uploads are encrypted using SSL too. All the data is stored in Amazon's cloud.
All this being said, we cannot guarantee absolute security as no method of electronic transmission or storage is absolutely secure. So if the security for you is paramount then please use your own servers for sharing.
What's next
The wireframe sharing part is only the beginning. Our next target is to offer tools that will allow your team and clients to leave meaningful feedback that you can use to get a better understanding of the requirements and improve your design. Please stay tuned!
Meantime please let us know how sharing service works for you and how we can make it better!
Other changes
Signed Mac OS X bundle with Apple's developer certificate
Fixed an occasional error in Properties View
Fixed an error in groups produced by a certain sequence of undoes/redoes
Updating
To update to the latest version of WireframeSketcher use Help > Check for Updates, or just download it from our website.
The version number of this release is 4.0.0.
Enjoy!