Hello everyone!
Summer is over and we've switched back from vacation mode to full-time. Today's release brings a new version of WireframeSketcher that improves the overall experience. Other changes include the update to online sharing service that adds real-time comments. Read on for more details.
New WireframeSketcher
We have migrated WireframeSketcher to version 4 of Eclipse platform which improves the overall experience and integrates better with more recent versions of Windows, Mac and Linux.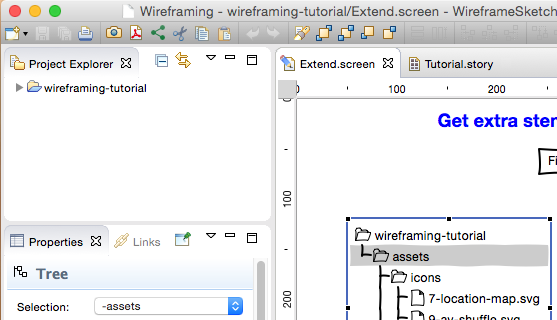 We've spent a lot of time testing this new version, but as with any major update some small issues may arise. So please don't hesitate to let us know if you see any.
Updated online sharing service
We continue working on our online sharing service to make it more useful to you. Here's the last round of changes:
Real-time comments
Comments now work in real-time so that the conversation flows more naturally. When someone posts a new comment you'll be able to see it right away without the need to refresh the page.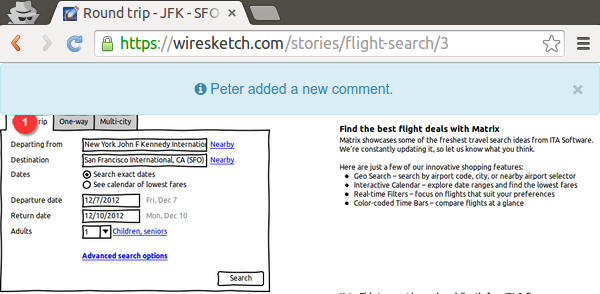 Proxy support
Another significant improvement is the use of system proxy settings during upload. So if you couldn't use online sharing service due to being behind a proxy then you should be able to use it now. So give it another try.
Other changes
Added background color property for Window widget
Added background color transparency for Window and Browser widgets
Updated Font Awesome stencil to 4.2.0
Updated Glyphicons to version 3.2.0 of Bootstrap
Fixed app signature on Mac OS X 10.9.5 and OS X Yosemite
Fixed local

HTML

export to keep

PNG

file names unchanged
Improved local

HTML

export to use permanent links for individual screens
Improved

PDF

and

HTML

export to handle better deleted screens
Fixed the unmarking of annotation widgets
Updating
To update to the latest version of WireframeSketcher use Help > Check for Updates, or just download it from our website.
The version number of this release is 4.4.0.
Enjoy!