Hi everyone!
I am very excited to bring you the latest update. The new version brings a long awaited support for sketchy look and feel. Now you can get that hand-drawn, unfinished look in your mockups by simply switching to a new theme. Read on for more details.
Sketch theme
A picture is worth a thousand words, so here's what the new sketch theme looks like:

I think you'll agree that this looks like a lot of fun. The new sketch theme will help you:
Stay in the "ideas mode"
Spend less time on alignment and other minor details
Communicate clearly that your mockups are just that and nothing more
Have fun!
You can switch between the old, clean and the new sketch themes either globally:

or per screen: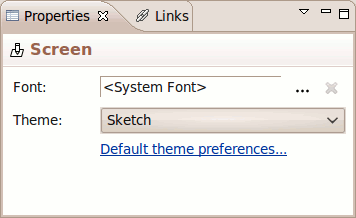 The sketchy look is kept when exporting to PNG and PDF. Specifically with PDF you will still get a high-quality, clean, vector-based document.
I'd like to have your feedback on the new theme. If there is anything that can be improved – I am all ears!
Studio and version control plugins
Since WireframeSketcher Studio was released I am getting requests for supporting version control plugins like Subclipse, Team Foundation Server and others. I am happy to grant your wish. You can now easily install those plugins and Studio will activate Team perspective and other UI elements related to version control. Read more about how to install studio plugins in the user guide.
Other changes
Added link properties to Note and Callout widgets
Fixed

PDF

export problem with certain fonts
Fixed the rendering of horizontal lines in Table widget
Updating
As usual to update to the latest version of WireframeSketcher just use the Eclipse update manager. The same applies to WireframeSketcher Studio!
The version number of this release is 2.4.0.
Enjoy!