Hi everyone!
We hope that all of you had a great summer. We are back to our regular release schedule and today's release brings a pack of improvements and bug fixes. Read on for more details.
Better Accordion
Accordion widget now supports tree syntax for adding a second level of menu items. Thanks to Rinke and others for requesting it.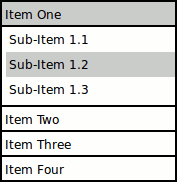 All items can have sub-items and they will be properly shown or hidden according to current selection. This means that you can describe the entire menu in a master screen and then override just the selection property in concrete screens.
Other changes
Added link property to Search Field widget
Added the name of the linked screen in the Outline View for Hotspot widget
Added vkontakte and odnoklassniki icons to Social Icons set
Improved the look of pointy button:

Reversed submit keys in Quick Add dialog. Now simple Enter will add and dismiss the dialog. Use Ctrl+Enter to add multiple widgets.
Removed auto-size action from toolbar to prevent confusion with same-size action
Fixed the issue with custom icons in projects that have spaces in their name. Thanks Richard for reporting this.
Fixed the issue with '&' character in component names
Fixed the search in Quick Add and Palette to be case insensitive
Fixed the issue with paste action and the creation of recursive components
Fixed '\n' abbreviation in wiki text to work with style markups
Fixed the issue with "Custom" button in color picker that was not visible under certain settings
User guide in
PDF

format

WireframeSketcher User Guide is now also available in PDF format. You can use it to create a printed version or a as a quick offline reference.
Updating
To update to the latest version of WireframeSketcher go to the Help menu and select Check for Updates.
The version number of this release is 3.7.1.
Enjoy!